Vie de Boheme – how the Bohemian Club was formed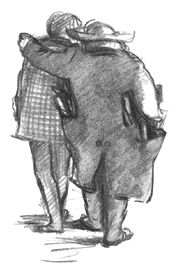 15 of 24. Artist and musician Alexandre Schaunard has been thrown out of his room for non-payment of rent. He has been traipsing the streets of Paris, searching for anyone from whom he can borrow a few francs. Hunger at last drives him to 'Mother Cadet's' where he has just ordered two portions of rabbit stew.]
"I say!" Schaunard struck his knife on his glass. "Where's my rabbit stew?"
"It's off, sir," said the waitress, bringing a plate. "It's finished, this is the last portion – and it's been ordered by this gentleman." She deposited the plate before the man of books.
"Confound it!" said Schaunard. The expletive was so full of melancholy disappointment that the man of books was moved. He pushed aside the wall of volumes between himself and Schaunard, set the plate between them and said, in the gentlest accents of which he was capable:
"Sir, might I make so bold as to invite you to share this dish?"
"I could not deprive you, sir."
"You could not deprive me, then, of the pleasure of obliging you?"
"Well, sir, if you put it like that…" Schaunard pushed forward his plate.
"Permit me to refrain from offering you the head," said the stranger.
"Why, sir, I could not allow …!" But when Schaunard drew his plate back towards him, he perceived that the stranger had served him with exactly that portion which he had expressed his desire to keep for himself.
"What does he mean, with his fancy manners?" Schaunard grumbled inwardly.
"The head is the most noble part of the human form," said the stranger, "but it's the worst part of the rabbit. Many people, therefore cannot endure it. I am different, I adore it passionately."
"In that case," said Schaunard, "I deeply regret having deprived you of it."
"Eh, Excuse me," said the man of books, "I have the head. I may even have the honour to observe that …"
"Allow me," said Schaunard, pushing his plate beneath the other's nose. "How would you describe this morsel?"
"Gracious heaven, what do I see? By Jiminy, yet another head! A bicephalous rabbit!"
"Bi -?"
"Bicephalous: from the Greek. Now that I think of it, M. de Buffon – who wore artificial cuffs, by the way – quotes examples of this rare occurrence. Well, I can truthfully say that I am gratified to have partaken of such a phenomenon."
Thanks to this incident, a conversation had definitely been initiated. Schaunard, unwilling to be behindhand with civility, ordered an extra litre. The man of books ordered another. Schaunard proposed a salad; the man of books proposed a sweet. By eight o'clock, six litre bottles were standing empty on the table. As they conversed, their natural open-heartedness, irrigated with the draughts of the rough wine, urged them on to an exchange of autobiographies. The came to know each other as if they had been together all their lives. The man of books, after hearing Schaunard's outpourings, informed him that his own name was Gustave Colline. He was a philosopher by calling, and lived by giving lessons in mathematics, scholastics, botanics, and various other sciences ending in "-ics".
[To be continued …]
[Vie de Bohème by Henry Mürger, a vivid portrait of the 'Bohemian' life of the artistic quarter of Paris in the nineteenth century was originally published (by Michel Lévy) in 1851. The extract above is taken from a translation by Norman Cameron, published by Hamish Hamilton. The illustration is by Dodi Masterman.]
" Next week: Schaunard and his new friend, Colline, go on for coffee and more wine and meet up with M. Mouton and Rodolphe.
Leave a Response