Vie de Boheme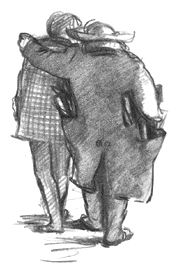 Vie de Bohème by Henry Mürger, a vivid portrait of the 'Bohemian' life of the artistic quarter of Paris in the nineteenth century was originally published (by Michel Lévy) in 1851. The following extract, is taken from a translation by Norman Cameron, published by Hamish Hamilton.
How the Bohemian Club was Founded
(Part 1)
This is the story of how Fortune, whom sceptics call God's secular agent, one day brought together the persons who were to form the club composed of that fragment of Bohemia with which the author of this book has tried to acquaint the public.
One morning – it was April the eighth – Alexandre Schaunard, who cultivated the two liberal arts of painting and music, was sharply awakened by the alarum of a cock in the neighbourhood that served as his timepiece.
'Confound it!' Schaunard exclaimed, 'my feathered clock is fast. It cannot be today already.'
He leapt headlong from a piece of furniture which was the product of his own industrious invention, acting at night as a bed – very badly, needless to say – and by day successively playing the parts of all the furniture that was missing by reason of the bitter cold of the previous winter: a jack-of-all-trades piece.
To protect himself against the nips of a morning breeze, Schaunard hastily donned a pink satin petticoat covered with spangles, which he used as a dressing gown. This morsel of finery had been left in the artist's dwelling, on the night of a fancy dress ball, by a 'Folly' who had been so foolish as to be taken in by the deceiving promises of Schaunard. The latter, disguised as the Marquis of Mondor, had rattled in his pockets a dozen seductively clinking crowns: coins of illusion, cut with a punch from a slab of metal and borrowed from the stage-properties of a theatre.
Clad in his outdoor costume, the artist opened his window and shutters. A shaft of sunshine, like an arrow of light, drove sharply into the room, forcing him to open his eyes, still veiled in the mists of sleep. A the same time a clock nearby struck five.
To be continued …
Leave a Response