St Peter's Church Magazine – December 1999
ST. PETER'S CHURCH, BOHEMIA, ST. LEONARDS-ON-SEA
MAGAZINE SEPTEMBER 1999     20p
ST. PETER'S CHURCH, BOHEMIA, ST. LEONARDS-ON-SEA
PRINCIPAL SERVICES:
Sundays: 8.00 am. Eucharist (1662 Prayer Book), 10.00 am. Sung Eucharist (Rite A), 6.00 pm. Evensong (1662 Prayer Book)
Weekday Eucharist Wednesday 10.00 am. (Rite A)
To arrange Baptisms, Banns, Weddings, Funerals etc., please contact Fr. Alex (address below)
Holy communion is taken to the sick and the housebound. Please contact Father Alex if you know of a person who would like to receive the sacrament at home.
Vicar: The Rev'd Fr. Alex Brown SSC. St Peter's Vicarage, 10 Blomfield Road, Tel: 445606
Lay Reader: Mrs Sheila Johnston, 37, Church Road, 712532
Churchwardens: Mr Don Ray, 6, Clarence Road, 439556. Mr Laurie Treen, 49 Amherst Road, 446376
Treasurer: Mr Don Ray (as above)
P. C. C. Secretary: Mr Nigel Lowe, 10, Blomfield Road, 445606
Organist: Mr. Frank Jennings, 11, The Fairway, 423766
Magazine Sec.: Mrs. Margaret Crossley, 52, Chapel Park Road, 438971
Servers: Father Alex (as above)
Fellowship: Mrs. Sheila Johnston (as above)
JuniorChurch: Mrs. Peggy Verrall, 3, Springfield Road, 422746
Guides: Mrs. Maddie Blake, 3, Denham Close, 854206
Brownie Guides: Mrs. Chris Stevens, 127, Braybrooke Road, 719978
Rainbow Guides: Mrs. Rosemary Noble (as above)
Parent & Toddler: Mrs. Rosemary Noble (as above)
Articles for the magazine: please send to the Vicar.
Deadline 20th of the month prior to publication. Thank you!
DATES FOR YOUR DIARY SEPTEMBER 1999
3 St. Gregory the Great, Pope & Dr.
4 St. Birinus, Bp. Of Dorchester, Apostle of Wessex 650
5 TRINITY 14
8 Nativity of The Blessed Virgin Mary
U. S. P. G. Coffee Morning & Lunch (SSA) St. Peter's Fellowship (SSA)
12 TRINITY 15
13 St. John Chrysotom, Bp. Of Constantinopal & T. 407
St. Peter's P. C. C. meets at 7.30pm. Church Hall
14 HOLY CROSS DAY
15 St. Cyprian, Bp. Of Carthage, M 258
16 St. Ninian, Bp. In Galloway, c430
17 St. Hildergarde, Abbess of Bingen, Visionary
19 TRINITY 16
20 John Coleridge Patterson 1871 & Saints & Martyrs of Australia & Pacific
21 ST. MATTHEW, APOSTLE & EVANGELIST
22 St. Peter's Fellowship (SSA)
25 St. Sergius, Abbot of Holy Trinity, Moscow. 1392
26 Harvest Thanksgiving
27 St. Vincent de Paul, P. 1660. Harvest Supper (SSA)
28 St. Wenceslas, Duke of Bohemia, M. 929
29 ST. MICHAEL & ALL ANGELS
30 St. Jerome, P. Translator of the Scriptures & T.
OCTOBER 1999
3 TRINITY 18
24 'CELEBRATING STEWARDSHIP' (SSA)
Abbreviations: Ab. Abbot.  Abp. Archbishop.  Ap. Apostle.  Bp. Bishop.
B. V. M. Blessed Virgin Mary.  D. Deacon.  Dr. Doctor of the Church.  Ev. Evangelist.
M. Martyr.  My. Missionary.  P. Priest.  R. Religious.  SSA See Separate Article.
T. Teacher of the Faith.  V. Vuirgin.
DEAR FRIENDS OF ST PETER'S 
Dear Friends of St Peter's,
August is usually a quiet month for the parish priest but this year has been the exception and not all the extra duties have been pleasant ones, unfortunately. However, we are now into September and there seems to be a lot going on this month.
I would like to draw your attention to some events listed in this magazine. There is a Line Dance Party on the 25th for Macmillan Cancer relief, a very worthy cause. Jubilee 2000 – Drop The Debt – Human Chain of Protest that the young people of St. Peter & Paul, Parkstone Road are involved with and are inviting others to take part in association with Christian Aid. (11th September). These are fun items that intend to have an impact and provide funds. You might like to be involved!
I would like to draw your attention to our Harvest Thanksgiving on the 26th. Please bring along to church some provisions to distribute in the community and on the Friday 24th some flowers and greens to/and help decorate the church.
On Monday 27th is our Harvest Supper in the Church Hall. Tickets are on sale now at £2.50 we will need to know the numbers for catering purposes soon. Do not leave it until the last minute you may not get a meal. We have the Iris Gillett Guitar Group to entertain us after the meal. They are good and great fun. Look forward to seeing you there.
Fr. Alex
SUNDAY 26TH. SEPTEMBER 10.30am.
HARVEST THANKSGIVING
MONDAY 27TH. SEPTEMBER 7.30pm.
HARVEST SUPPER: TICKETS £2.50
with the
Iris Gillet Guitar Group
ST. PETER'S FELLOWSHIP
We re-start after our Summer break on Wednesday September 8th. with a service in the Lady Chapel at 3.00pm. Fr. Alex will lead us in worship on this day. The Birthday of the B.V.M. and the beginning of our 'New Year'. Following the service there will be tea in the Church Hall and a holiday 'Bring & Buy Stall' with the theme 'Sea & Sand' (blue and yellow?!)
On Wednesday September 22nd at 3.00pm. in the Church Hall we welcome Mrs. E Rees as our speaker. She will explain what "Teddies for Tragedies" is – and how Teddies we knit really do help.
All those who are interested in coming to our meetings will be very welcome.
Do come along and bring a friend!
Thank you! Look forward to seeing you there!
Sheila Johnston
MAIN RECIEPTS AND PAYMENTS IN JULY 99
RECIEPTS:
Collections £401.69
F.W.O. £669.70
Caring & Sharing £21.60
Donations (2) £165.00
PAYMENTS
Parish Contribution £1,628.00
Vicarage Council Tax & Water Rates £85.48
Vicar's Working Expenses June/July £267.10
Altar Wine £124.55
Caring & Sharing £100.00
FABRIC APPEAL
Previous Total £1,148.12
Fund Raising Events £40.00
Mile of 2 pence pieces £14.00
Total £1,202.12
Don Ray & Laurie Treen
Churchwardens
U.S.P.G. COFFEE MORNING & LUNCH
Wednesday 8th September 11.30am. & 12.30pm. St. Peter's Church Hall
There will be a 'Bring & Buy' Stall & Raffle
Please support this event for the mission of The Church
THANK GOD IT'S MONDAY
Pathway Choice of the Month
Review of 'Thank God it's Monday' by Mark Greene
Published by Scripture Union – £4.99
There are few subjects more neglected and few areas of ministry that could do more to transform the nature of society than witness at work. This is Mark Greene's premise as he proceeds to unpack it in a lively, provocative manner. Church leaders, encourage their church members to use their spare time in seeking common ground, building bridges and developing relationships with non-Christians, when in the workplace these things already exist. 'We are encouraged to go out and fish in pools and puddles when we are sitting on a lake full of fish.'
Mark Greene seeks to redress the balance. Greene, new director of the Institute for Contemporary Christianity, spent some years in advertising and has a wealth of experience and anecdotes to offer. God is a worker and for us to work is his idea. He calls us to demonstrate holiness and holy boldness at work, as anywhere else. Greene suggests that we develop a ministry plan in which we pray for certain colleagues, thinking about the kind of people they are and how we can best serve them, especially in the spiritual areas of their lives.
The book, however, is not just about personal witness and evangelism. It also addresses issues such as relating to the boss, anxiety in the workplace and business ethics.
Thank God it's Monday is essential reading for any Christian concerned with their ministry in the workplace .. and for those that aren't! Buy it! Buy your pastor a copy, too!
Reviewed by Tim Edworthy, Minister, Wellington Square Baptist Church
AVAILABLE FROM PATHWAY BOOKS AT THE SPECIAL PRICE OF £4.49
FROM 1ST TO 30TH September 1999
Charity Number 1062821/0
CROSS + PURPOSES
After the 'Summer Supper' and a break in August, the next meeting is on Tuesday 21st September at 7.30pm. in the home of (sic)
Please look on the Sunday Newsheet of Sunday 19th September for the subject for discussion on the 21st. I think my brain has been softened by the sun – and – rain!
All who like to discuss topics of general interest will be more than welcome!
See you there!
Sheila Johnston.
STEWARDSHIP SUNDAY
24TH OCTOBER 1999
We will be 'Celebrating Stewardship' of Talents and Giving on this Sunday at the 10.30am. Eucharist followed by a 'Faith Meal' in the Church Hall. There will also be a 'Silent or Spoken Auction' of talents and gifts.
What can you do that will earn a gift for St. Peter's?
Please put this date in your diary NOW!
An invitation from the Parochial Church Council will be given to everyone on the Electoral Roll to attend.
The 'Faith Meal' is a lunch where everyone attending brings something edible and in faith we share among us the good gifts that people bring.
DROP THE DEBT
JUBILEE 2000 HELP MAKE A HUMAN CHAIN WITH LOCAL MP MICHAEL FOSTER
10:30 AM, SATURDAY 11TH SEPTEMBER. AREA OUTSIDE DEBENHAMS HASTINGS
TO BREAK THE CHAIN OF DEBT. FOR MORE INFORMATION CONTACT NYKKI AND JESSICA BRISTOW 01424 713669. GEMMA SMITH 01424 426753. REV. SU MARSHALL 01424 752065
ST PETER'S CHRISTMAS BAZAAR  
SATURDAY NOVEMBER 20TH. 10.30am. – 2.00pm. CHURCH HALL. ALL STALLHOLDERS WOULD WELCOME SUITABLE GIFTS BY FRIDAY 19TH NOVEMBER 1999 THANK YOU! Preserves – Home made Marmalade, Jams & Pickles, Chutney etc. Provisions & Sweets. Jenny & Cyril Field. White Elephant – Attractive & Interesting Articles in good condition for their age. Objects d'Art and Antiques. Sheila Johnston, Stephen Owen & Derek Walsgrove. Thrift Shop – Any item that can be bought for £1 or, under £1 in the Thrift Shop. Christine Lewis & Kathleen Sellwood. Cake Stall – Home-made Cakes and Scones etc of any type. Margot Spencer & Sally Mowbray. Mens Stall – Gifts for Men, Stationary, Flowers & Pot Plants. Don Ray & Frank Jenkins. Bottle Tombola – Bottles of all sorts filled with soft drinks, sauces, shampoo, wines etc. Fr. Alex & Alan Harvey. Toy Shop – Toys or games for children, new or in v.g.c. Joyce Blackledge. Craft Stall – Crafts and fancy goods, hand-made & knitted goods suitable for all ages. Dorothy Powell & Helen Calloway. Guides & Brownies – Decorative items for the house, table or Christmas tree. Chris Stevens & Maddie Blake. Aladin's Cave – Crafted and decorative items for the home. Chris Treen & Lynda Rummery. Green Stall – Fresh fruit and vegetables. Brian & Daphne Jewel. Bran Tub – Gifts for children from Father Christmas. Gifts for the Super Raffle.
LINE DANCE PARTY Four Courts Community Centre. Sidney Close, Hollington. SATURDAY, 25TH SEPTEMBER, 7.30PM. TICKETS £4.50, INCLUDING LIGHT SUPPER. Organized by Kickers Country Club. Proceeds to Macmillan Cancer Relief. Hastings & Rother Appeal. For tickets telephone 845540 or 428220.
A DAY AT DRUSILLA'S
Despite an almost overhead thunderstorm, and an amazingly full Drusilla's Zoo, St. Peter's JuniorChurch had a very enjoyable outing last Wednesday, August 25th, thanks once again to the trustees of the Brisco Charity.
In total 5 adults and 23 children aged from 2 to 12 met outside St. Peter's Church for the trip to Alfriston. Although we were unlucky with our journeys (road-works on the way and jams on the way back), no-one was sick, no-one complained, we arrived safely, and found everyone for the return journey!
The morning was spent looking round the animals, with lunch beautifully set out for us at midday, and two very helpful people waiting at our table. After lunch we all joined the queue for the train, then dispersed, with most voting for the adventure playground, a few watching the flying birds of prey, and three, apparently, disappearing altogether – until we saw the train come round again with three waving figures. And again. And again.
The generous additional treat of an ice-cream each rounded off what had now become a wet but still enjoyable afternoon (apparently it made the slides more slippery!)
Since returning I have received a thank-you letter which highlights just how  much the trip is appreciated. Mrs. Hayler reporting how much she herself and her children enjoyed themselves quoted Dorian as saying it was the best day of his life. Many thanks to Mrs. Hayler, Peter and Nicky Verrall and my invaluable assistant Becky. Without them, it couldn't have been done: with them, it was a pleasure.
Peggy.
THE FLOWER ARRANGERS
When the church is quiet and there's no one to see
Figures softly slip inside and quietly turn the key.
It's the flower arrangers, their turn for flowers is here.
They've locked the door behind them – sadly vandals are their fear.
The previous arrangements must be cleared and thrown away.
(But they keep the good ones to grace another day)
Blooms can be expensive – so their gardens do provide
And they don't mind the spaces
Where once grew their joy and pride
They'll also beg for foliage from friends without compunction
Tell them without blushing that it's for a special function
They'll confess that on a Sunday while the lesson's being read
Their critic's eye will wander to the flower with drooping head.
When there's to be a wedding they'll faithfully enquire
About the colours wanted to match the bride's attire
Or sadly if in memory of a loved one passed away
They'll order very special flowers to mark a special day.
At Christmas and at Easter time when all the pews are filled
There'll be a special effort from all the Flower Guild.
They'll be tired but very willing to spend their evening hours
In quiet satisfaction – ever praising God in flowers
With acknowledgement to Smith Hills Chapel Magazine & Flower Guild.
DENISE EILEEN PHILLIPS R.I.P.
22ND JULY 1999
(John 3:29) "The bridegroom's friend – who is there to support him – and carry out his orders – is very glad when he hears the voice of the bridegroom."
That is what joy means to me and I have it in full!
These are the words of St. John the Baptist, and they came very much to mind – as I sat down to think about my relationship with Denise – after I had received the call that she had died very peacefully in St. Augustine's Nursing Home aged 74 years.
Why that particular verse? Well for me – first and foremost – Voice and Denise will always be closely associated. She would be "Denise the Voice" to me, because that first knowledge of her was via the radio on a Sunday morning. I found her, almost by accident, as I played with the bedside radio toward the end of the 1980's and discovered 'Sussex Sunday' presented by Phillipa Dolly and Denise Phillips. Radio Sussex decided to re-vamp its Sunday morning program, and Denise's show, which, at two hours, had become the longest religious programme on radio in the UK was a casualty.
When I came to the ConquestHospital as Chaplain I had two assistants Kim Kimber and Denise Phillips – I felt that I knew one of them, I had never seen Denise but I recognized the voice – it was unmistakable! I recognized hers first a voice of experience. I had never worked in the Health Service and Denise was always there to point me in the right direction, to suggest things we should be doing, or, how they might be achieved.
When my inexperience showed, hers was a voice of reason. Her knowledge saved me a lot of wasted effort, and what knowledge it was, born of considerable life experience.
She was married in the 1950's at All Souls, Clive Vale and she and her husband became deeply involved in Church Life. He was a good deal older than Denise and when he fell ill she became his carer. She spoke to me once about that particular stage of her life, confiding that it had been very difficult. Mary, standing at the foot of the Cross, was a powerful image for her. Following his death she threw herself into work, both paid and unpaid.
She became Voluntary Services Co-Ordinator at St. Helen's Hospital, which included organizing volunteers at the RESH and clinics.
Denise was then appointed Administrator of the BuchananHospital – renewing an association that went back to the Second World War. She was Co-ordinator of St. Matthew's Day Centre for the Blind and editor of 'Centrelink', the monthly taped magazine of the Centre. She was also a member of the local Education Sub-Committee administering the Duke of Edinburgh's Award Scheme, on the Youth Sports Council, Hurst Court Residential Centre and Hospital Radio. Then there were her Church activities, as member of St. Peter's P.C.C., and Deanery and Diocesan Synods.
I was pleased to find, as many others have, that hers was a voice of encouragement. My discovery of this came as I ascended a very steep learning curve in hospital chaplaincy.
Thankfully she was also a voice of caution greatly helped by unerring insight and intuition. She was uncannily accurate in reading people and situations and in this hers was a voice of calm, comfort and support in delicate pastoral situations.
As the Chaplaincy Team grew, it was her original idea that they should be instantly recognizable, and so was born the idea of the 'Blue Tops'. This considerably raised the profile of the Chaplaincy Team. Another quality of her voice was that of gratitude – voice of thanksgiving – to God for all his gifts and to those around her for services rendered.
Whatever Denise used her voice for, it was never a means of trumpeting on about all her works and achievements. She was a humble and very private person. Hers was not a voice of pomposity, conceit or pride, but a voice of faith, a voice of hope.
Her death has left a void – a gap – in the lives of so many who were touched by her life. The friendly person who knew when to encourage and when to caution – the sensitive person who was always pleased to offer what support and comfort she could to others yet never above saying thank you for everything she received. A generous person who had worked out long ago that the greatest gift a human-being can give to another is themselves.
She managed, in humility, to be what all of us as Christians aspire to be – channels of God's grace in this world. There is no question that in her life she followed that advice of St. John the Baptist. She has most certainly been the bridegroom's friend who in her earthly life attempted to give him support and tried to carry out his orders. I have no doubt that when the voice she had always listened to finally called her to himself, she was very glad indeed!
She now knows what true joy is and what it means to have it to the full!
May she rest in peace and rise in glory!
Fr. David Jeffries.
100 YEARS AGO: FROM THE PARISH MAGAZINE OF SEPTEMBER 1899
PUBLIC WORSHIP
(By the Late Bishop of Wakefield).
CONFESSION OF SIN
Be in good time. Confession hath first place
In drawing nigh unto the throne of grace;
When sin is pardoned, thou canst praise and pray;
Sin unconfessed will bar the onward way.
REVERENCE
Kneel on thy knees. Before the mercy seat
Is not the lowliest posture the most meet?
The Master knelt in prayer, and it is so
The graceless servant cannot bend so low?
RESPONDING
Make thy response. Observe the Church's ways:
The faithful churchman Prayer-Book rules obeys.
The tongue that thrills with worship lights the fire
In other souls, and kindles high desire.
PRAISE
Sing with both heart and voice: yet in God's ear
'Tis but the heart that singeth loud and clear.
Sing with a heart on fire with holy love,
And thou shalt join the Angel's songs above.
GOD'S WORD
Mark well the blessed lessons of God's Word,
And bear some good fruit of the lessons heard.
The preacher heed; some counsel he may speak
To help thee better live throughout the week.
HOLY COMMUNION
Turn not thy back when bidden to draw nigh
To the sweet feast of holy charity.
Meet there thy lord, who comes thy soul to feed,
And in his love to make thee his indeed.
THANKFULNESS
There are masses of people who take every good thing that comes their way for granted, and never give thanks to God or man. The result is that when some good thing they desire does not come their way, they feel aggrieved, disgruntled, discontented. Whereas one who is thankful for the smallest good thing is glad each time it comes, but does not miss it when it does not. For he has never taken it for granted.
Now this sort of attitude does not come too naturally. For to take life like this is wisdom and no one is born wise. The thankful heart has to be cultivated as wisdom and as a very important part of the art of living.
(from Stanstead Parish Magazine)
FAILURE
Let us get our sense of proportion right if our failures depress us. Goodness is only another name for the Kingdom of Heaven. That means perfection in every possible way. And no intelligent person expects to attain perfection except by constant, steady, sustained effort. "Here a little and there a little." We 'inch' our way into the Kingdom of Heaven. In fact, these failures are not failures at all, if we go on trying after each one. These failures are merely part of our growth. The only real failure is to give up trying.
(from Stanstead Parish Magazine).
DOUGLAS MERCER AND SON
TRADITIONAL FUNERAL DIRECTORS
AND MONUMENTAL MASONS
29, SEDLESCOMBE ROAD NORTH
ST. LEONARDS-ON-SEA
EAST SUSSEX TN37 7DA
TELEPHONE 01424 421805
FRANK MEDHURST
PLUMBERS, DECORATORS
AND ALL
GENERAL REPAIRS
26, LOWER SOUTH ROAD,
ST LEONARDS-ON-SEA
( 421507
FOOTSTEP SHOP
THE HOME OF GOOD SHOES
A wide range of good quality shoes
Extreme sizes also available
61, Bohemia Road
St. Leonards-on-Sea
Telephone: 436210
M. BLOOM PHARMACY
FOR ALL YOUR TOILETRIES,
COSMETICS AND MEDICAL NEEDS
55-57 BOHEMIA ROAD
ST. LEONARDS-ON-SEA
TELEPHONE 421072
ANCHOR
Bethune Court is a purpose built home staffed to give 24 hour care to 46 elderly people.
Residents are able to furnish their own ensuite rooms.
Our philosophy is to ensure resident needs are met with dignity, privacy and empathy in comfortable, secure surroundings.
Please visit and see for yourself.
Bethune Court, Boscobel Road,
St. Leonards-on-Sea
01424 719393
TOWNER
FUNERAL DIRECTORS & MONUMENTAL MASONS
Oldest established. Independent
And family-owned since 1875
2-4 Norman Road, St. Leonards
( 436386 (24 hrs)
19 Market Square, Battle
( 775515 (24 hrs)
Golden Charter Funeral Plans available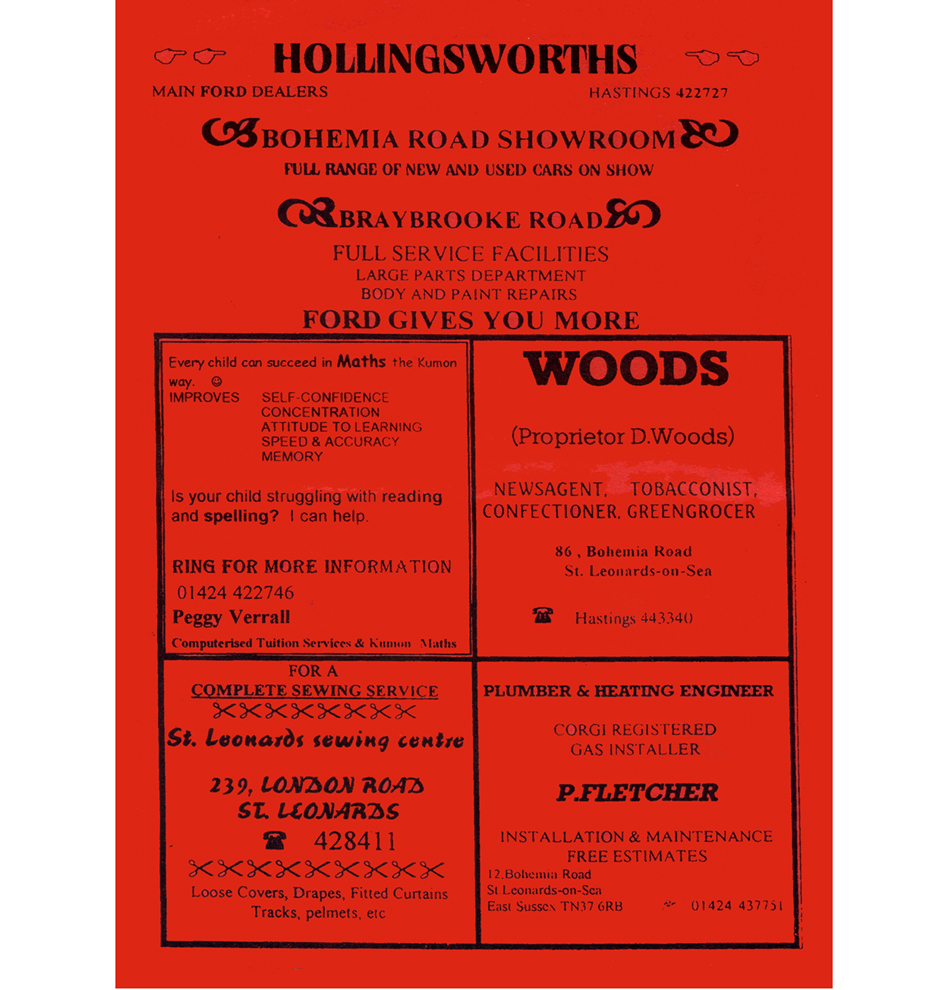 HOLLINGSWORTH
MAIN FORD DEALERS, HASTINGS 422727
BOHEMIA ROAD SHOWROOM
FULLRANGE OF NEW AND USED CARS ON SHOW
BRAYBROOKE ROAD
FULL SERVICE FACILITIES
LARGE PARTS DEPARTMENT
BODY AND PAINT REPAIRS
FORD GIVES YOU MORE
 PEGGY VERRALL
Every child can succeed in Maths the Kumon way. J
IMPROVES SELF-CONFIDENCE, CONCENTRATION, ATTITUDE TO LEARNING, SPEED & ACCURACY, MEMORY.
Is your child struggling with reading and spelling? I can help.
RING FOR MORE INFORMATION
01424 422746
Peggy Verrall
Computerised Tuition Services & Kumon Maths
WOODS
(Proprietor D. Woods)
NEWSAGENT, TOBACCONIST, CONFECTIONER, GREENGROCER
86, Bohemia Road
St. Leonards-on-Sea
( Hastings 443340
FOR A COMPLETE SEWING SERVICE
ST LEONARDS SEWING CENTRE
239, LONDON ROAD, ST. LEONARDS.  428411
Loose Covers, Drapes, Fitted Curtains. Tracks, pelmets, etc
PLUMBER & HEATING ENGINEER
CORGI REGISTERED, GAS INSTALLER
P. FLETCHER
INSTALLATION & MAINTENANCE. FREE ESTIMATES
12, Bohemia Road, St. Leonards-on-Sea, East Sussex TN37 6RB. 01424 437751
Leave a Response