Win! Win! Win!
By Jonathan Broughton, Dec 2011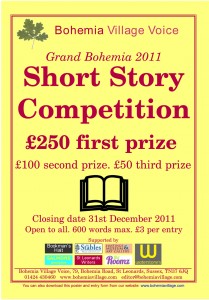 Short story competition closes 31 Dec
Stoke up the fire, draw the curtains, and turn the lights down low. it's story time. But not any old story; this one's written by YOU! Will it be adventure, fantasy, science fiction, romance, historical, a thriller or (titter) erotic? Bohemia Village Voice is on a quest to find the next literary genius. Perhaps there may even be one in our local area.
Tempted? We hope so. Need a little encouragement? (Cue deep booming voice) 'The best short story will win £250.00!' Really? 'And that's not all.' (Deep intake of breath). 'The second prize winner will win £100.00!' I can't believe it. 'And -.' Not another prize, this is too much. 'The third prize winner will win £50.00!' (Faint!)
It's simple: write your story, (no more than six hundred words please, the poor old judges need their sleep too), fill in the entry form on page 29, rob the piggy bank of three pounds, and send or take your masterpiece to the offices of the Bohemia Village Voice. It is much preferred that entries are sent as emails, but TYPED hard-copy entries are very welcome too. Make sure your entries reach us by December 31st 2011.
Our wonderful supporters include: Bookman's Halt (Bohemia), Hastings Museum & Art Gallery, (Bohemia), Stables Theatre, Salmon's Bookshop (White Rock), St Leonards Writers, The Roomz (Western Road), and Waterstones bookshop (Priory Meadow).
RULES, etc: The entry fee is £3 per story. The competition is open to anyone of any age, living anywhere in the world. An application form must be completed by each entrant. There is a maximum story length of 600 words; there is no minimum length. Stories may be written in any style and on any theme.
JUDGES The judging panel will include Cathy Walling (curator at Hastings Museum), Clive Linklater (Bookman's Halt), David Russell (local author), Diane Haberstroh (New York contributor for the Voice), Jonathan Broughton (St Leonards Writers), Julian Beecroft (art critic and author), Sara Young (Bohemia Village Voice), Nick Browne (author and proofreader for the Voice), Paul Rummery (Bohemia Book Fayre), Peter Winder (published short story author), William Third (technical writer and translator) and Jacky Hayles (teacher).
Leave a Response