The Swan, Hastings
Review by Jonathan Broughton, Dec 2011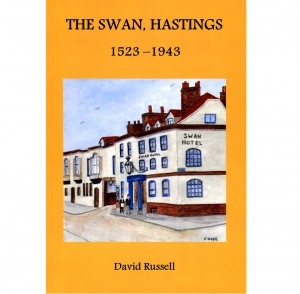 Following on from his successful book, The Pubs of Hastings and St Leonards 1800-2000, David Russell has turned his attention to a single licensed premises in Hastings, The Swan.
This former coaching inn, hotel and public house occupied a site on the High Street in Hastings Old Town from around 1523 until its destruction by enemy action in 1943. Four centuries of social history passed by and through its doors, and David Russell has researched and documented many fascinating accounts of these times in great detail. The 18th century for example, when there were frequent conflicts between the English and the French in the Channel, saw The Swan as a salesroom for fast sailing cutters.
The boats were launched from the beach when the shoreline was much closer to the town than it is today. In 1809, three French prisoners of war escaped, and booked into The Swan in disguise. Their good command of English and an inexhaustible supply of funds raised no eyebrows, until late one night they were confronted by the pub dog as they tried to escape and make their way back to France. The Swan became an integral part of the Hastings community, in particular the use of its Assembly Room during the 19th century, when it hosted a market, a theatre, an election headquarters, an auction house, a lecture room, a ballroom, and a venue for the Hastings Flower Show. The book is illustrated with many photographs and pictures. The Swan was a Hastings institution, and David Russell's book celebrates its memory in style.
o The Swan, Hastings, 1523–1943, by David Russell, (ISBN 978-0-9562917-2-1) published by Lynne Russell, 2011, £8.50. 112 pages; 61 illustrations. Copies available from hastings.pubs@gmail.com Tel: 01424 200227.
Leave a Response