Riposo's Egg Cutlets
By Sarah Janes (Feb 2011)
This issue we're all about eggs!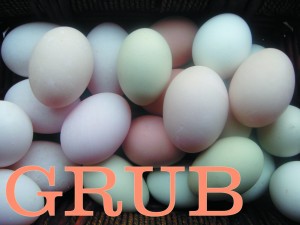 RIPOSO'S EGG CUTLETS.
From Margaret Pitcairn-Knowles' book – 60 Favourite Riposo Vegetarian Recipes
5 eggs
Squeeze of lemon juice 1½ oz.
butter
Pinch of salt
1½ oz. flour
Deep fat for frying 1 gill milk (quarter pint)
1½ oz. fine breadcrumbs Boil the eggs hard and chop roughly.
Make a panada by melting the butter and mixing in the flour, then gradually adding the milk, beating well and boiling up each time the milk is added. Mix the eggs and the panada, then add the breadcrumbs, lemon juice and salt to taste. Allow the mixture to cool, then form into cutlets. Egg and breadcrumb, and fry in deep fat. Thanks to Richard Pitcairn-Knowles for giving us this recipe.
Leave a Response