Town honours Bohemia student of local history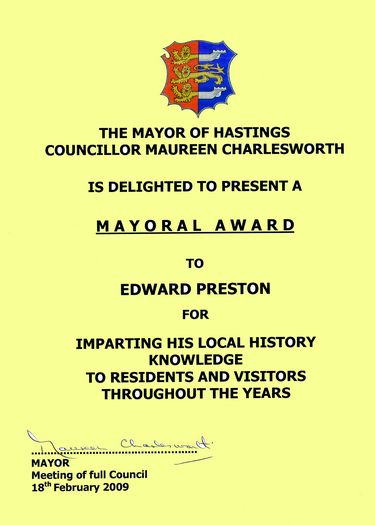 Hearty congratulations to local history man and frequent Voice contributor Edward Preston on his recent award from Hastings Council. The document (pictured below) reads 'The Mayor of Hastings, Councillor Maureen Charlesworth is delighted to present a mayoral award to Edward Preston for imparting his local history knowledge to residents and visitors throughout the years (signed) Maureen Charlesworth, Mayor, meeting of the full Council, 18th February 2009'.
Edward's friend, Bill Third, says "As well as his series of lectures every year, Pieces of the Past, touching on various aspects of Hastings' history, Edward is always in demand as a speaker at churches, fellowships and associations throughout Hastings & Bexhill. He is also a minister at the Independent Church in Albany Road: here, he combines his deep knowledge of the scriptures with links to today's affairs, providing a thought-provoking and, at times, an entertaining service. It's good that his valuable work in the community has been recognised in this way. His 2009 series of lectures (see list) start in May at Hastings Museum in Bohemia.
2009 Local History Lectures
by Edward Preston
May 25 Harold & William met here
Jun 1 The Bourne valley
Jun 8 The moving finger writes
Jun 15 Church & chapel in St Leonards
Jun 22 Queen's Road & her tributaries
Jun 29 Bank notes? – Cheque mate!
Jul 6 Highways & byways
Jul 13 The name on the wall
Jul 20 PARKing & GARDENing
Jul 27 Down below
Aug 3 Time to watch the world go by
Aug 10 Beside the seaside
Aug 17 Private houses & public houses
Aug 24 Hastings born & bred
Aug 31 Vanishing trades & services
Sep 7 Top of the bill
10.30am Hastings Museum, Bohemia Road
Admission free
Leave a Response