Picture Puzzle 68 – answer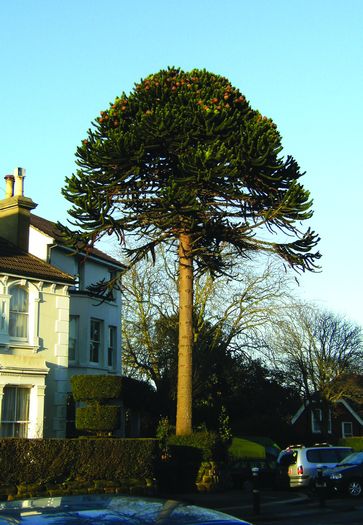 The monkey puzzle tree featured in our previous issue is to be found at 3, Upper Park Road.
A £10 Empress Art gift token has been sent to the winner, Mr M Woodfine – well done!
COMMENT
Sylvia Tolcher writes (May 2009)
Dear Sir, if I remember correctly, the monkey puzzle tree [Puzzle Corner, Voice, March 2009] was at 19 Bohemia Road. My mother used to do cleaning there for a lovely couple – Colonel and Mrs Rowlerson. As a child I would have to go along with Mum and remember being told these unusual trees were impossible to climb. Sylvia Tolcher (via email)
We think there was such a tree in Bohemia Road, and that it was cut down some years ago – this was not the tree in our Puzzle Corner last month. See our Puzzle Corner page [above] for the correct solution – ed.
Vic Chalcraft writes (Jul 2009)
Dear Sir, the Chilean pine [Village Voice May 209] at 19, Bohemia Road, a then local landmark, was cut down early one Saturday morning in the 1980s, much to the anger and dismay of many local residents. As for its being a 'monkey puzzle', the problem is it can be climbed, but once up, the spikey leaves make it difficult to come down! Vic Chalcraft, Aldborough Road.
Ron Fellows writes (Nov 2009)
Dear Sir, with reference to the Voice, May 2009, I quite clearly remember the monkey puzzle tree in Bohemia Road. It was at no. 19 where Colonel and Mrs Rowlerson lived. The tree is so-called because it is looks so hard to climb. It was discovered in 1780 by Don Francisco Dendariarena in the Andes. Ron Fellows, The Fairway.
Leave a Response