George Monger – Bohemias only resident to be awarded the Victoria Cross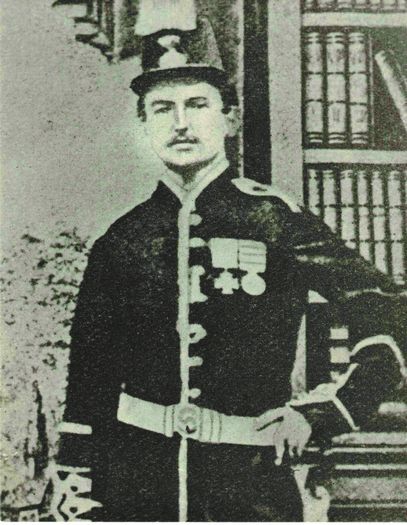 The Indian Mutiny began on May 10th 1857 at Meerut when Indian soldiers were put in irons for refusing to use the new cartridges. They were rescued by their comrades who, in the process, shot their British officers.
They made for Delhi, 40 miles away, where there were no British troops. The Indian garrison joined them and they proclaimed the Titular Mogul emperor their leader. They now had a cause, an army and a leader. History argues the cause of the mutiny but it was started off by the new issue of cartridges lubricated by pig fat – an unclean animal to the Indians – who were expected to bite off the end of the cartridge prior to loading a new rifle.
During the fight to regain Lucknow, Sir Colin Campbell describes how his force on November 18th crossed a canal and advanced through a thick wood to the Secundrabagh fortified palace. It consisted of high walls constructed of strong masonry carefully loopholed, and protected by a fortified village. Advancing under fire, the artillery brought its guns to bear while the infantry forced the rebels out of the village. During the attack, a young corporal of the 23rd Welsh Fusiliers was dangerously wounded and lay in an exposed position under enemy fire.
Private George Monger [top right] and Lieutenant Hachet, seeing his danger, rushed out, and placing him between them, brought him under cover and promptly obtained medical attention which saved his life. For their bravery, Monger and Hachet were awarded the Victoria Cross. After his moment of glory, little was heard of Monger, though the volumes of books recalling the names of illustrious heroes generally mentioned his deed. It was while perusing the Church of St Paul's magazine for December 1893 that I came across his name again when an old soldier who signed himself 'Anglo Indian" found him.
THE ROYAL WELCH REGIMENT
The following was kindly supplied by Brian Owen, curator, Royal Welch Fusiliers Museum, Wales.
Monger's citation was "Private George Monger volunteered to accompany Lieutenant Hackett when he assisted in bringing in a corporal of the 23rd Regiment." [London Gazette 12th April 1859]. This little account was based on the citation: "At the Secundra Bagh, Lucknow, on November 18th 1857, Monger displayed great bravery in accompanying Lieutenant Hackett to assist in carrying in a corporal of his regiment who, being wounded, was lying in a most exposed position." For more information, I recommend Heart of a Dragon by W Alister Williams.  Published by Bridge Books 2006.                              Brian Owen.
Leave a Response