St Paul's Road – a survey of doorstep opinion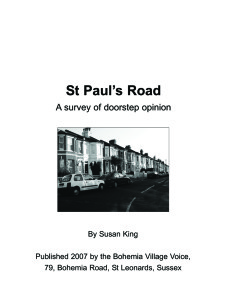 St Paul's Road – a survey of doorstep opinion
By Susan King
Published 2007 by the Bohemia Village Voice
INTRODUCTION
Voice staff did a door-to-door survey in St Paul's Road, (in Bohemia, a residential part of St Leonards in Sussex), recently to find out what issues were of concern to local residents. One or two things emerged way ahead of others, namely, parking and badly behaved youngsters. Faith in the school, the YMCA, the council and the police taking any notice of the residents' concerns was non-existent. Indignation ran high, in several cases amounting to a deep sense of betrayal. Several residents considered the police to be on the side of the yobs and insolently inimical to decent people.
"this democracy process is all a farce"
"Wardens are only a token gesture"
"They said they'd prosecute me because I got hold of his ear'ole."
"What do we pay our taxes for?"
"What can we do? It's a waste of time reporting things."
"The police never came…then people wonder why people take the law into their own hands."
PARKING
The biggest concern was parking. Emotions seem to be at boiling point as regards parents and teachers from St Paul's School not only clogging the road up with their cars, but also parking in a very irresponsible way, likely to cause accidents. Residents have complained to the school and, the school merely telling them to contact the council, have felt disregarded. Nevertheless, they have contacted the council, and feel they have been fobbed off again with merely a token gesture, since the wardens do very little and are ineffective.
Meanwhile, the parking chaos continues unabated. Residents told us parents park right on the corners and sometimes even double-park on corners, making it very dangerous for other drivers and pedestrians, especially children. Many can never park outside their own house or even in their own street, sometimes having to park several streets away. Double-parking is a problem down the entire length of the road. Even as The Voice recorded these complaints, there were two instances of double-parking close by. One resident pointed out this would make it impossible for fire engines to get along the road.
There were complaints about parents doing U-turns, parking irresponsibly "just waving to their kids," and that they "abandon cars in the middle of the road." One resident close to the school had his wing mirror smashed three times in a couple of months by the careless driving of parents. Other comments included, "The road is chock-a-block with parents." "St. Paul's just say ring the council about the parking, but the council wardens don't do much, they just say, 'Would you mind moving on, sir?' and that's all." "Wardens are only a token gesture," declared another man. "I think the school should use their influence with parents and parking," a resident said, "The school is thinking of expanding their facilities, so is the YMCA, but they should think about the parking." A man told us, "The council know (about parking). They held a survey, so they know where people come from." One resident said she, and lots of other residents, have had rows with parents over the way they park.
Several people cited schoolteachers as well as parents as causing parking problems. "They all park in the road and don't park in the school any more." There were three independent comments of "It's an accident waiting to happen," from separate householders. One added, "I wish they could just close the school! We viewed the house during the Easter holidays so we had no conception!"
At the other end of the road, the YMCA adds its quota to parking problems. A nearby resident said although the YMCA has a car-park, "lots of people won't park there because it's difficult to get out of," therefore they park in the road outside.
Peter Welford told us the YMCA used to allow residents to park in their car park out of hours. "Then they put up railings to stop people. It's a b***** eyesore; a complete waste of money. They should have spent the money on making the building nicer. There was a meeting about whether the railings were wanted or not, but the railings were put up a week later. They were obviously all ready. This democracy process is all a farce. It was already a decided thing."
Almost everybody we spoke to voiced their concerns about danger, especially to children, from speeding cars, boy racers, and bikes. Two men, one with three young children, favoured speed bumps in the road. They were amongst several who complained of St Paul's Road being used as a rat-run, and youths constantly having scooter races up and down the road.
One resident said, "Some sort of controlled parking might be useful." Others disagreed. Vic Bond said, "I don't agree with the idea of paying for parking outside your own house, especially since people who pave over their front gardens don't have to pay. We only have small gardens here." An old-established resident said, "It's gone down the dumps. It used to be a really nice residential area, but now we have coaches and lorries parking here." Parents, teachers, even the ice-cream man touting for custom outside the school came in for criticism, but there were no complaints about the children; on the contrary, residents said they were "all right" and made "no excessive noise".
An elderly lady, who has lived close to the school for twenty years, said she enjoyed the children making friends with her Yorkshire terriers. Her only complaint was that the ice-cream man parks immediately outside her window (only a yard from her sitting-room) from 2.30 pm every schoolday and constantly makes a noise nuisance.
YMCA
The other major concern was the YMCA, on two points; the cumulative effect on parking and noise and disturbance from kids hanging around at night. Sometimes this prevented residents from sleeping. "They're sitting on the wall shouting their mouths off and keep us awake."
One man, speaking on both issues, described the YMCA as "more trouble than enough." Peter Welford said, "We can't get to sleep and I get abuse if I tell them. Years ago it used to be10 pm and all go home and quiet. Now it's noisy until a quarter to eleven" He continued, "Children smashed the window with a brick. I complained but the YMCA wouldn't let me use their phone to phone the parents or police. When the police eventually came they said they would prosecute me because I got hold of his ear'ole."
Barbara Welford said that although there was noise from groups of children outside the YMCA at night, she found when she tactfully asks them to keep the noise down, they do. "They really don't realise the noise they're making." She has asked the YMCA to have someone at the gate to tell the children to go home afterwards. "The YMCA should police what happens," said another householder.
A resident who has lived in St. Paul's Road for 23 years volunteered, " there are no problems with the YMCA. Jim Proudfoot said, "The YMCA is great. It provides things for young people to do, but the downside is groups of young people and noise. It keeps people on edge. You can't quite relax in case there's something else going on; vandalism." He added, "I'm not one who sees every young person wearing a hood as a vandal. I try not to be a nimby, but older people might feel a bit more vulnerable"
The Voice spoke to Karen Manning, who runs the YMCA. She told us it was always busier in the summer because of students. The youth clubs, which start again in September, "get them off the streets and stop them vandalising. We offer that as a service to the community."
Resident Nicola West said there should be more things for children to do, especially things they could do by themselves in a safe environment without having to spend money. This applied to the whole age range.
VANDALS
There were several complaints about bad behaviour, bad language, and youngsters vandalising cars. A resident said, "There's swathes of teenagers going up and down the road. They're abusive. The police said it would be kept under control by a curfew, but nothing was ever done." Several householders said they had never seen any police or street wardens, and two asked "have we got any?" Another said the vandals were youths coming out of pubs at week-ends.
Noise from pubs after closing time from people walking home was mentioned. Vic Bond said "since the Wheatsheaf has extended its opening hours, Friday and Saturday nights are very rowdy until 1 a.m.…or maybe it's just that the kids have now come of age to go to the pub." Another man complained of youths playing football in the road, "although there are two pitches nearby."
A resident said hooliganism was the only thing wrong with the area. "Children as young as five or six jump out in front of cars on purpose, but I don't think they're from this area. I think they're from*****"  She mentioned the name of a nearby road. Several other householders pinpointed the same road as a source of hooligans disturbing St. Paul's Road.
She spoke of groups of yobs loitering at the supermarket. "They kept tormenting an old lady every time she went there. Eventually she told the police. All they said was, 'change your route going home.' What are we paying our taxes for?" Her neighbour added, "What can we do? It's a waste of time reporting things."
The first lady continued, "They should have a bit of respect. If I saw them mistreating the elderly I'd give them a slap!" She went on to tell us, "The police never came when my other half reported something thrown at him by yobs. There were six youths and they threw some fluid at him which exploded. They did it three times at least, but missed. They might hurt somebody next time. Then people wonder why people take the law into their own hands. I feel very strongly about it. So does my partner, as the police said they wouldn't come to see him. Pathetic! I just want to live a normal life and go out. And elderly people, they want to be able to go out without being scared."
Mrs Hollett said, "There was a big disturbance at night outside our house. The police wouldn't come. They said phone the community officer. But we don't know how to get hold of him. Old PC Barrie was very good. He knew everyone, but since he retired we haven't seen anyone."
SHOPS
Several people said that they would like to have more traditional shops in Bohemia, i.e. those which supplied basic needs such as grocers, greengrocers and butchers, plus the restoration of the late-lamented post office. "Shops keep closing and then re-opening as kebabs and pizzas," said Nicola West, "We don't need them, we need essential needs"
"The shops are a bit…," said Terry Baker, with an expressive look. He didn't finish the sentence but continued, "though they're getting better. There's a need to encourage nicer shops that actually sell proper goods. It needs a bit of life in that road."
Another man said, "The shops are a disaster. The council should be more pro-active re local businesses, for example, subsidising the business rate. This council seems to be dreadfully reactive. It should take the initiative."
Two people specifically blamed yellow lines for the demise of so many shops in Bohemia Road, and James Caspian also blamed supermarkets. Those the Voice asked about the proposed ASDA were for the most part impartial, though some were concerned about its effect on local shops and businesses, and the knock-on effect this would have on the Bohemia area. One was in favour, but qualified this by worries about it making the congestion in Bohemia Road even worse: "Bohemia has been getting congested ever since they put the traffic lights in." (at Needlepoint).
THE BUILT ENVIRONMENT
Some residents spoke about the visual appearance of Bohemia Road, appreciating its old buildings and decrying unsuitable modernisation and tawdry street furniture.
James Caspian said, "Bohemia Road is very old – my real beef is the plastic windows and doors. The character of those old houses is just defaced. It's ruining the look of those lovely Victorian and Edwardian houses. I'd like to see it become a conservation area." He also commented on the Lidl sign and the Shell sign. "Bohemia Road is defaced by those enormous twenty-four hour lit-up signs. The Lidl sign is an eyesore. Light pollution and all these modern buildings spoil the environment."
Another man said with a shudder, "Those dreadful plastic flowers! (i.e. in the council's hanging baskets in Bohemia Road). This is the main entry to the town – and it's a joke." Two householders expressed concern over proposed developments at Horntye Park.
STREET CLEANING & LITTER
Residents considered the standard of street cleaning to be appalling. Barbara Welford spoke up about litter, saying she would like to see other residents picking it up, as she does. "We should all pick up our rubbish and not whinge!" She told us that she had been round with a petition about litter and as a result met neighbours she had never met before despite having lived in the road for twenty-three years. "The neighbourhood has got less friendly due to us all having cars rather than walking up and down the road. I don't think it's anything to do with the people."
Vic Bond summed it up succinctly: "Veolia? They're pretty rubbish!" Mrs Hollett had recently complained to the council because a dirty nappy had lain in the street for three weeks. Another lady complained about dog mess in the road. "It's bad, especially as there's a school in the road." The drains in the gutters are all blocked up, a householder informed us. "They just fill up with mud and it all just gushes down the road. We don't see road sweepers. They can't be sweeping it."
"The litter is awful," exclaimed another resident. "It's a scandal. Especially when the dustmen have been."
COMMUNITY
Everyone who mentioned the neighbourliness of the road agreed that there was a good community spirit. One parent described it as "family-orientated".
A fairly new resident said that he "likes the area but people don't seem to take much interest in the neighbourhood, except the old stalwarts in the Bohemia Area Association. It's the same few people, but the meetings are open to everybody." He would "like to see more people attending, and it would give it a stronger voice." Another said, "The neighbours are fine; I've only been here a short time but I've got to know quite a few people. People are friendly. I feel I can call on people in an emergency. People seem to chat quite a lot."
An elderly widow told us, "They (her next-door neighbours) look after me because I lost my husband." Her neighbour added, "We all look after each other in this street."
"Lots of life is coming into the road," said Terry Baker. "The street has got nicer since I've lived here; people have moved in and done the houses up. I talk to all the neighbours. It's nice and friendly." Jenny Chantry said that apart from parking, "It's a lovely area. Very friendly and helpful, and seems to be safe."
"After twenty-seven years in inner London, it's paradise here!" declared James Caspian. He continued, "people are friendly, it's peaceful, relaxed – fantastic parks and woods. I've just been in the Park – the woods – with a group of Friends, clearing it. We've opened it out and it's already let in a lot of light and encouraged lots of bluebells."
A long-established resident told us that he enjoyed local wildlife and was pleased that an owl had recently stayed in the vicinity. "It was fantastic; everyone came out to listen to it" He also enjoyed foxes living nearby and had watched their twelve-week old cubs.
Peter Welford said, "It's a nice area, with a lovely pub, the Dripping Spring – lovely beers!" He continued, "It's got good communications; there's buses, and you can walk to the station for London. There's shops – but problems because people can't park, though it's a pity that things like grocers, butchers and greengrocers have closed. "
His wife Barbara said, "We've actually made a conscious decision that we're going to be carried out of here." One lady said with a dramatic flourish, "No comment; I've sold my house; I'm going; I don't care!" When asked, "Do you have a final comment to make as you're leaving?" she replied, "No, no comment; I'm going! I'm off!"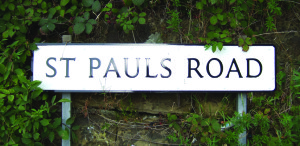 CONCLUSION
Residents appreciate the good things about the street where they live, such as friendly neighbours, but it is spoilt for them by a sense of being disempowered as regards the bad things, primarily parking chaos caused by the school, and badly behaved youngsters, mostly centred on the YMCA. With a little give and take, these things could so easily be put right. With the school and the YMCA, these things are the results of a conflict of interests. The way to resolve this is for both sides to get together in a neutral environment and discuss things non-aggressively, to find some common ground and common aims (eg, providing things for youngsters to do), and then, in a spirit of working together, to build on that by considering the things which are going wrong and how to guide these things back to a solution with which everybody is content.
What is happening at the moment is that the residents are feeling treated like dirt, frustrated and hopeless. As a result, they naturally come to regard the other side as the opposition, and in such a scenario tempers rise, each side becomes defensive instead of working together to sort things out, and the situation deteriorates.
Genuinely listening is so vital. It is an intrinsic part of respect for others, and one which the vast majority of authorities seem to have discarded. In order to get things done about concerns such as street cleaning, for example, the council should listen to what the residents have to say, and, furthermore, take it on board and do something about it.
The problem of the police seeming to be on the side of the hooligans instead of on the side of decent people is difficult to solve on a local basis. It is not difficult to solve in itself. It only needs common sense policies to be put into place. But this needs to be addressed at a national level.
By far the most prized thing about the St. Paul's Road area was the spirit of neighbourliness. But nobody should be complacent. Cars were pinpointed as undermining the feeling of community, and plenty of other things in modern life are constantly gnawing away at it. Little things, little kindnesses, a pleasant word for a neighbour, stopping to pass the time of day rather than rushing past, these are the things that people appreciate, and making the effort to do just a little more of them can play such a large part in strengthening the community spirit that St Paul's Road residents, like people everywhere, value so deeply.
"It's paradise here! – after twenty-seven years in inner London, it's paradise here!"   declared James Caspian.   He continued," the people are friendly, it's peaceful, relaxed – fantastic parks and woods.  I've just been in the Park – the woods – with a group of Friends, clearing it.   We've opened it out and it's already let in a lot of light and encouraged lots of bluebells." 
1 Comment
// Begin Trackbacks ?> // End Trackbacks ?>
Leave a Response